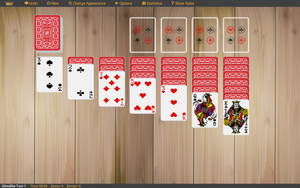 Solitaire King is an HTML5/JavaScript implementation of 20 different solitaire games - including Klondike, Spider Solitaire, FreeCell and Yukon.
One Click Play - clicking a card will move it automatically to the best available space
Movement Highlighting - highlight available spaces
Sound effects and Visual 3D effects
Around 20 background images and few card sets and backs are available
Ad blocker interference detected!
Wikia is a free-to-use site that makes money from advertising. We have a modified experience for viewers using ad blockers

Wikia is not accessible if you've made further modifications. Remove the custom ad blocker rule(s) and the page will load as expected.