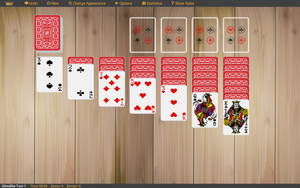 Dig Solitaire is an online Solitaire platform for playing Solitaire. It includes a unique high-score feature and a fun game experience and more than 15 Solitaire games including Klondike, Spider Solitaire and FreeCell.
High-scores, see how good you play and compete with other players all around the globe.
16 of the most popular Solitaire games.
Auto click play - double clicking on a card will move it to the right place, if it's available.
Ad blocker interference detected!
Wikia is a free-to-use site that makes money from advertising. We have a modified experience for viewers using ad blockers

Wikia is not accessible if you've made further modifications. Remove the custom ad blocker rule(s) and the page will load as expected.